Mumbi Properties (Pty) Ltd was started by Dr. Chomba Chuma in 2005 as a Real Estate Investment company focusing on Residential Real Estate market in South Africa.
It has since grown to offer a full spectrum of services to investors wanting to build healthy property portfolios with good cash-flow and capital appreciation.
MUMBI is all about Building a Legacy, Touching Freedom – Using property as a vehicle for Investment.
MUMBI Property Investment Sysytem shows you how to protect ALL your assets in Trust structures to enable you accumulate an infinite property portfolio – and eventually Wealth in Property. We help you through setting up the right structures, identifying the MUMBI-type properties to managing the rental units under your portfolio.
The MUMBI Investment System provides a 6-Step easy process in assisting you build a Property Portfolio.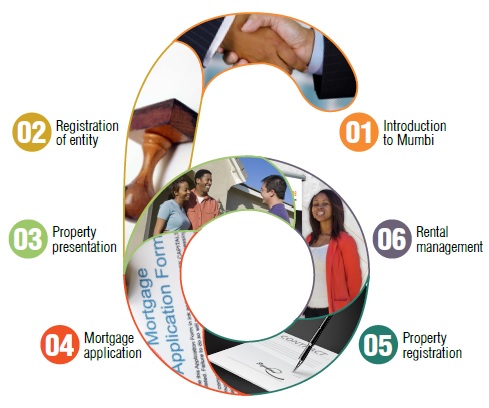 Step 1 – Introduction to Mumbi – We introduce you to Mumbi Properties, Mumbi Strategy and Mumbi-Type properties
Step 2 – Registration of Entity – Assist you in registering the appropriate entity for your Property Portfolio
Step 3 – Property Presentation – Show you the various properties specifically picked for you
Step 4 – Property Finance – Apply for Mortgage / Finance for your property
Step 5 – Property Registration – Hold you all the way during property registration Process
Step 6 – Rental Management – Assist you to manage your day to day operations of the property
Mumbi Property beleives in Using the Right Structures, Right Experts and Right Properties.
In the recent past, Mumbi Properties (Pty) Ltd has pioneered in a special type of Buyer-Seller property sales known as Installment of Sale Agreement (ISA). This method of purchasing property requires no Mortgage Bond and is enshrined in the ALA (Alienation of Land Act) of 1981; popularly known as Seller Finance. More information on ISA, visit www.mumbiproperties.co.za
For more information visit our website – www.mumbiproperties.com | www.mumbiproperties.co.za